Installation and Usage:
If you are using Mac OS X 10.6.x or higher, you may need to go into your System Preferences, Security and Privacy, General, and under Allow apps downloaded from: choose Anywhere.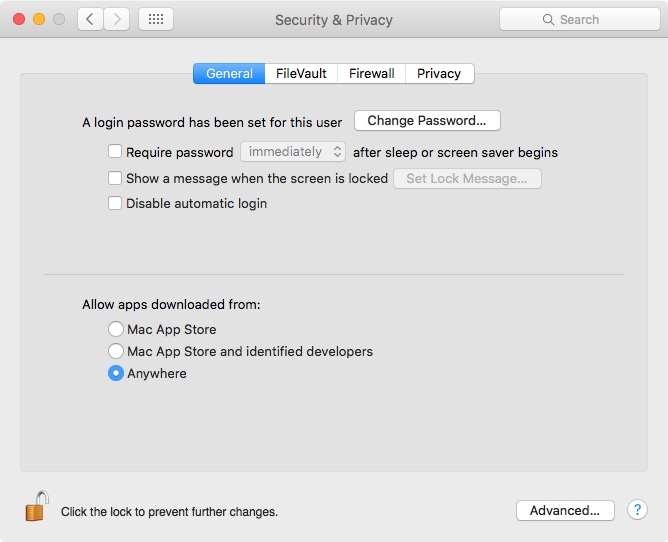 Unstuff the archive. Then move the Trash It! app anywhere onto your computer (I recommend the desktop and/or your dock).
If you drop a folder or files onto Trash It!, it will delete only what you dropped on it, not what's in the trash.
If you double-click on Trash It!, it will delete what is in your trash.
All options are non-reversible after you click OK after you enter your Admin password*, so be careful with what you delete!  If the file/folder you deleted is backed up in Time Machine, you can recover the file/folder following Time Machine's instructions (below).
If you ran Trash It! and still see a full trashcan, please RESTART YOUR COMPUTER!
*USAGE NOTE ABOUT BLANK PASSWORDS:
If your password is blank, i.e., you have NO password, Trash It! may not work on your system. Trash It! uses the BSD Subsystem and blank passwords can cause issues. Apple appears to have fixed it with 10.10 or higher so your mileage will vary.
To get around this issue (It's an Apple thing), CLOSE all open applications, go into your System Preferences > Users and Groups and change your password to something other than nothing. Run Trash It!, and when finished, go back into Users and Groups, and set your password back to nothing.
Persons using 10.10 or higher may or may not have this issue. Persons using Snow Leopard (10.6.x) will not be able to use Trash It! with a blank password.
If you are in any way connected to the Internet and are using a blank password, you are opening your entire system up to hackers trying to gain access. It is highly recommended you have a password, even if it's a single letter. Do NOT use a space as a password or have spaces in your password.
Time Machine
If you accidentally deleted Time Machine files, this could take a while.  First, Enter Time Machine. Then exit out of Time Machine. This will mount your Time Machine partition on your desktop.
First, try the 'Fast' button. If you still have files in the trashcan, then try the 'Really Stuck' button. See note below under the subheading Time Machine.
If you need to run it in 32-bit mode, do a Get Info (command + i) on the application and turn on "Open in 32-bit mode".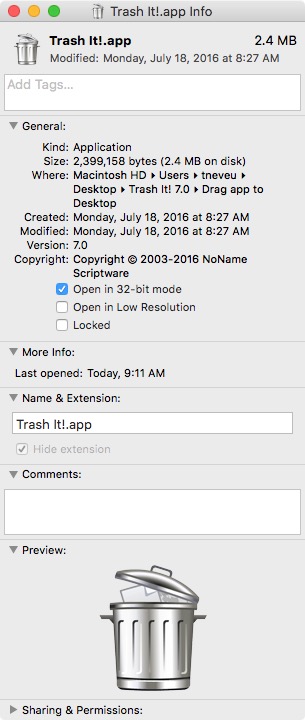 If you have a lot of files to delete, you can check off "Prevent App Nap."
Previous versions available on the Downloads page.
Time Machine files:
As of Mac OS X 10.7.x and higher, Apple has made it all but impossible to delete Time Machine files whether on a local or external drive unless you use Time Machine to do it. Please read this article on how to do it somewhat quickly:
http://reviews.cnet.com/8301-13727_7-57597578-263/how-to-clear-unwanted-files-from-time-machine-backups/
Please go to our Blog for more issues (such as not having an admin password and uninstalling Trash It!).
Tips & Tricks:
Some disk optimization programs that free up hard drive space will move locked items to the trash. They are able to do this because you gave them Admin access when you entered your password. If that occurs, try the steps listed below.
Step 1. You have a file in the trash and it's locked and Trash It! can't delete it. Try creating a new folder, moving the new folder to the trash, and moving the offending files/folders into this new empty folder. Then run Trash It! RESTART YOUR COMPUTER!
Step 2. If that doesn't work, take the stuck item out of the trash. Then drag and drop it onto the Trash It! icon. Make sure it's out of the trash first. You may need to put it into a new folder first before the System will let you take it out of the trash. RESTART YOUR COMPUTER!
Please check out his posting regarding more Trash It Tips & Tricks.
DELETING SYSTEM FILES:
Sometimes you may need to delete some Apple system files or replace outdated ones that are derived from Unix. These are called Unix executable files.
Some of these can be found in the hidden directory bin (From the Finder, select Go > Go to Folder and type in /bin (or shift+command+g). Some of these files include rar and unrar Unix files that you can download elsewhere and add to your system so they are available for use via the terminal or other apps.
Mac OS X won't let you replace existing system files with newer ones, or let you delete them. If you try to move it, it will only make a copy of the moved file, leaving the original alone. But if you drag the system file onto the Trash It icon, it will delete the file, allowing you to add the newer file into that directory. Once completed, run Disk Utility and repair permissions on your startup drive.
As a matter of good practice, you should repair permissions about once a week. This is the root cause of a lot of user's problems. That option is not available in versions of OS X later than 10.10 as it appears to be deprecated by Apple.
System Requirements:
Visit our Downloads page and choose the version that's right for you!